British Pubs Home and Abroad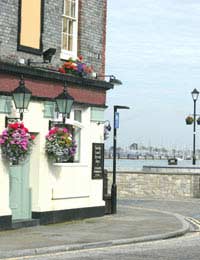 One of the things that makes going to a pub - or Public House - in the United Kingdom are the people. You will always find an interesting mix of individuals from all walks of life, who are engaging in their personalities and banter; as well as a feeling of homeliness.At the moment there are upwards of sixty thousand public houses in the United Kingdom.
The traditional British pub has been the central meeting point for many villages for hundreds of years and once - where the pubs were referred to as 'inns' - these pubs used to also be the drop off points for horse-drawn carriages as they ferried people from town to town, city to city, in the days before railways and cars.
The British pub has its origins as far back as Roman times when they had what we best could describe as the first hostelries. Indeed at the time of King Edgar he passed a law stating that no village or town could have any more than one pub.
Licensing Laws
Public Houses in the United Kingdom can now stay open twenty-four hours a day if they have the required drinks licence. It is important to note though that out of the sixty thousand-plus public houses in the United Kingdom only a small percentage of them have actually taken advantage of this law. However some pubs have applied for longer opening hours and will now open around 11:30am and close around 1:30am - giving almost fourteen hours drinking time.
Public houses normally call what is known as 'last orders' between 10:30pm and 11:00pm; this is the last time you can purchase a drink from the bar and the drink must be consumed and you must be off the premises by 11:30pm unless the public house has an extended drinking policy. Failure to comply with the opening hours on a pub's licence can result in a hefty fine or indeed the landlord or landlady losing his or her licence.
British Pubs Abroad
It may seem strange but many British holidaymakers when they travel abroad look for a traditional British pub set-up when they arrive at their holiday destination. Countries like Spain, America, Canada, and Eire (Southern Ireland) have a plethora of pubs with British pub names and indeed will serve exported British lagers, ales and spirits in addition to traditional 'pub grub'.
In Spain in particular this tradition for going on holiday and spending time in a British themed public house is one that has provided many ex-patriots (ex-pats) with the opportunity to build a new life for their families whilst still maintaining some semblance of homeliness. Many British themed pubs offer - as we have already mentioned - traditional British fare such as the Great British Fry-up, the Sunday Roast and Yorkshire Puddings; as well as giving holiday makers the chance to catch up with the latest football from home and the latest news. For many it is a home from home for duration of their holiday.
Pub Food
Many public houses in the United Kingdom have had to diversify over the years and now offer food as well as alcohol. Indeed many pubs now cater for the entire family offering menus for adults and children. Sunday lunchtime is a favourite for the family and often many families will venture out on a Sunday to enjoy a traditional Sunday roast with all the trimmings without having the trouble of preparing it at home.
The Smoking Ban
At one time it was perfectly legal to smoke tobacco products in public houses, restaurants and nightclubs all across the United Kingdom. The ban on smoking in all public places came into force on the 1st of July 2007 and since then public houses have been obliged by law to provide outside shelters - or beer gardens - for their patrons to smoke should they wish to do so. It is illegal to smoke in an enclosed public place and if caught doing so the smoker is liable to a hefty fine - as to is the licensee if they allow the individual to smoke indoors.
You might also like...