The Best Beaches in Britain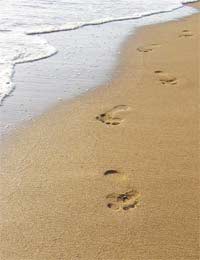 Millions of British holidaymakers jet off each year to beach resorts around the world. But the UK does hold some stunning beaches that can easily compare to those abroad.
Beaches in the United Kingdom
Pristine white sands are not only found in the Caribbean. The UK holds an amazing diversity of beaches, some of which can easily stand up to the Mediterranean and Caribbean dream beach destinations. Britain may not have scorching temperatures on a regular basis but when the sun does come out, these UK beaches are superb. Most UK beaches are easily accessible and perfect for windsurfing, snorkelling or simply relaxing on the sand on a hot summer's day.
Cornwall's Stunning Coastline
The Cornish coastline is one of the most popular locations for British beach lovers and is considered to have some of the best beaches in the UK. Cornish beaches such as Carbis Bay, Lantic Bay and Porthcurno Beach feature beautiful white sands that can easily rival any Caribbean beach. Many Cornwall beaches are surfing hotspots, and water sports are very popular due to the 30ºC summer temperatures. With some of the most picturesque coastal villages in the UK it is not hard to see why Cornwall is such a popular UK holiday destination.
Scotland's Hidden Beaches
Most holidaymakers wouldn't equate Scotland with beaches but there is a wealth of beautiful beaches to be found. Lunan Bay, three miles south of Montrose, is considered one of Scotland's best hidden beaches. Lunan Bay is an immense stretch of white sand that shelves gently into tranquil waters with a sky that continually changes colour. Head further north to the white sands of Sinclair's Bay in Caithness and holidaymakers can be forgiven for thinking they are in the Caribbean. Holidaymakers can actually swim with dolphins and porpoises in the warm Sinclair's Bay waters.
Woolacombe Beaches in North Devon
Devon's Woolacombe beaches stretch for three miles from south of Woolacombe to Putsborough. Woolacombe beach has achieved the Blue Flag status and is considered one of the top ten beaches in the world. The endless flat golden sands are a popular spot for joggers and walkers, and this area is a famous surfing spot. The shallow waters are ideal for families with young children. Woolacombe has also been named Family Holiday Destination of the year by the English Tourism Council.
One of Britain's Best Beaches
Wales boasts an immense number of stunning beaches. It comes as no surprise that beaches such as Oxwich Bay in Gower and Whitesands Bay in Pembrokeshire have been named among the best beaches in Britain. Oxwich Bay has been named the most beautiful beach in the UK thanks to its 2.5 miles of unspoilt sand and breathtaking scenery. Tourist experts have also ranked Whitesands Bay among the top 20 best beaches in the world. Whitesands Bay has been awarded the Blue Flag status and is considered one of the best surfing spots in the UK.
Traditional British Beach Resort
Broadstairs in Kent is located only 78 miles from London and is step back to an old style British beach resort. Broadstairs Beach features donkey rides, live brass bands and fireworks displays during the summer months. There are six beautiful beaches in the Broadstairs area with Viking Bay the largest of all. These beaches all consist of soft golden sands and tranquil waters. Broadstairs boasts an altogether less commercialised feel than the more popular beaches found along the coast such as Margate.
Breathtaking Beaches on the Isles of Scilly
The Isles of Scilly lie 28 miles off the coast of Cornwall and are home to white sand beaches and sparkling azure waters. With five inhabited islands and many uninhabited islands there is a wealth of beautiful beaches to choose from. Boat trips around the islands will enable holidaymakers to find secluded little coves and beaches. St Martin's boasts a number of spectacular white sand beaches and the sub-tropical climate helps to make this a continual UK holiday favourite.
Northern Island Blue Flag Beaches
Northern Island boasts many beautiful beaches set along one of the most scenic coastlines in Europe. Beaches such as Murlough Beach in County Down and Benone Beach in County Londonderry are considered two of the best. Perfect golden sands and water cleanliness are only two of the 29 criteria needed to be awarded the Blue Flag status. In 2009 Northern Ireland added another six Blue Flag beaches to its already impressive roster. The beaches in Northern Ireland will be hard to beat whether holidaymakers are relaxing on the white sands or swimming in the crystal clear waters.
You might also like...