Major Cities in Britain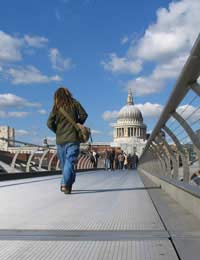 Britain's major cities have become just as much a part of world culture and news as those of France, the Americas and beyond.Our major cities are steeped in religious and political history as well as the history of those people who – from humble beginnings – went on to make both themselves and their country famous all across the globe.
London
London is the capital city of Britain and with a population around 7.2 million it is not difficult to see why. Encompassing an area of some 1,579km2 it is home to numerous ethnic groups and religious denominations as well as being home to some of the country's most famous people. No.10 and No.11 Downing Street are home to the Prime Minister and the Chancellor of the Exchequer respectively. Buckingham Palace is home to the Queen and the Royal family and is a favourite destination for tourists from abroad and from home.
London has five international airports and is split in two: Greater London and the City of London. The city of London is actually only 1 square mile and has a population of 9,200 while Greater London occupies 609 square miles.
Manchester
Manchester is known as the 'Capital of the North' and is home to 441,200 people. This is the City of Manchester; the urbanised area around Manchester (known as Greater Manchester) is home to 2.2 million people. Manchester is noted in history as being one of the first industrialised cities in the United Kingdom and was a key location throughout the Industrial Revolution, which took place in Britain between 1700 and 1900.
Nicknamed Cottonopolis, Manchester was a focal point during this revolution for the production of much of the cotton that was milled at the time. Known also for its ship canal along which much of this cotton was moved, Manchester has an intricate network of canals to this day, many of which are used for tourism and leisure purposes.
Newcastle Upon Tyne
Standing on the north bank of the River Tyne is Newcastle-Upon-Tyne, more often than not abbreviated to just Newcastle. 113km2 and with a population of just over 276,000, Newcastle is a vibrant and energetic city that has seen massive investment and regeneration in the last two decades.
The Roman emperor Hadrian founded Newcastle, which was originally known as 'Pons Aelius' (Bridge Aelius). Newcastle was at one time a thriving coal trading city and its populous were employed in the shipyards, which launched their ships into the River Tyne.
Newcastle is also renowned for its technological innovations such as Stephenson's Rocket, Electric Light Bulbs (Joseph Swan) and Steam Turbines (Charles Parsons). Now however the city sustains itself and thrives on retail trading and tourism as well as having one of Britain's finest universities.
Edinburgh
Edinburgh is the capital of Scotland but Scotland's second largest city. It has been the capital of Scotland since 1437 and has around 500,000 occupants. One of the top tourist destinations in Europe, Edinburgh regularly plays host to around 13 million visitors who come to look at its heritage, which includes the old and new town districts of Edinburgh, the Edinburgh Military Tattoo, the Edinburgh Festival and the Edinburgh fringe festival, which attract stars and celebrities from across the globe. These festivals held every year herald the next generations of actors, actresses and comedians. In addition the city boasts some of the finest architecture to be found in Britain as well as some of the oldest.
Again these are some of the principal cities of Great Britain but there are many more – too many to list here – but you can find details of them online or from tourist information agencies who will be able to help you plan your visit to Great Britain; or if you are British, and just want to explore those unvisited parts of your homeland.
Either way Britain has something that will cater to any taste as the millions of visitors will testify every year.
You might also like...
Only people from Manchester think its the capital of the North its actually Liverpool!