British Sea Ports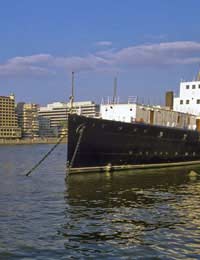 The United Kingdom is home to some of the busiest ports in Europe and indeed in the Western world. Playing host to hundreds of thousands of tourists from home and abroad as well as millions of tons of cargo every year, these ports act as arteries supplying the country with its life blood.
Dover
There are very few individuals alive today who do not know of Dover's existence. The famous white cliffs made famous by the forces' sweetheart Vera Lynn cast their shadow over one of the largest cargo handling ports in the country as well as the link between Dover and Calais via the Channel Tunnel.
Also one of Britain's largest and busiest ferry ports, Dover has recently celebrated four hundred years as a ferry port and boasts an impressive ferry departure every twenty minutes
Port of London
For many London is not just the capital of England but it is also home to the Monarchy at Buckingham Palace and the Tower of London as well as the Houses of Parliament. But London also plays host to an impressive port through which many sea-fairing vessels journey each day.
Carrying cargoes of oil, textiles and commercial goods these vessels make their way through from the coast at Southend, up past Gravesend and into the City of London itself.
In addition to these vessels there are an impressive fleet of naval vessels making regular journeys along the Thames and out to see attracting many thousands of visitors and holiday makers every year.
Liverpool
Liverpool is not just home to the iconic pop group The Beatles who took the 1960's and early 1970's by storm. It has a vibrant culture and in 2008 is European City of Culture. In addition to this Liverpool has a port that has long been one of the most important ports to serve the North Atlantic corridor.
At present Liverpool port receives the most cargo to the United Kingdom from the United States and Canada and recently plans have been unveiled for a £90 million expansion program which would see Liverpool port's container traffic double.
Southampton
Famous around the globe for being the port from which the ill-fated Titanic set off on its maiden voyage in 1912, Southampton is still one of the United Kingdom's most important ports even today.
Steeped in history Southampton offers Ro-Ro (Roll On, Roll Off) ferry services, cargo terminals that can cope with a huge demand and also storage for oil and alcohol.
It also is responsible for the accepting of vast quantities of fresh and perishable goods such as tomatoes and peppers.
Even now in the twenty-first century with the emphasis on speed of delivery the ports of the United Kingdom are among the busiest in the world all year round. These ports offer superb facilities, years of experience and gateways to the United Kingdom and beyond for suppliers of goods from all over the globe.
Indeed it is fairly safe to say that the ports of the United Kingdom are among its most important and treasured assets, steeped in hundreds of years of history and set to continue being part of a maritime history that has seen Britain venture out into the world and make its mark on many continents.
You might also like...