The Best British Wedding Locations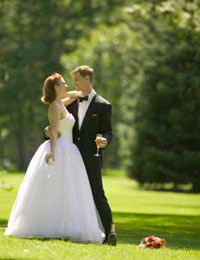 From famous London landmarks to stunning Scottish castles, there is no shortage of unique British wedding locations. Couples who are looking for something a bit special for their big day have a number of options in the UK, and many are very reasonably priced.
Wedding Venues in the UK
A unique wedding venue will help to make any wedding a more memorable experience. Historic locations, castles and stunning parks are all available to couples looking for that special wedding location in the UK. Couples can marry aboard famous British trains or have romantic rainforest views at the London Zoo. There is a wide diversity of wedding locations in the UK, and it only takes a little imagination to wow wedding guests on the big day.
Get Married with a Bird's Eye View of London
To literally obtain that 'swept of your feet' feeling why not marry in one of London's most famous landmarks. The British Airways London Eye permits couples to marry in one of their private capsules. The intended couple along with 20 guests will have breathtaking views over the Thames, the Houses of Parliament and St Paul's Cathedral. The happy couple will become married when the capsule reaches the top. At 443ft high, couples may want to check if any of their guests are acrophobic. Prices to hire the BA London Eye range between £1,700 weekdays and £2,000 on weekends.
Marry in one of Britain's Best Beach Locations
There is no need to go abroad to become married on a white sand beach in a sub-tropical climate. The Isles of Scilly are a mere 28 miles off the coast of Cornwall and boast some of the most spectacular beach settings. White sand beaches, a sub-tropical climate and greenery, along with spectacular sunsets make this an incredibly romantic wedding location. Flights from Cornwall take 30 minutes while a ferry trip will take three hours. Married couples can even have their wedding on one of the many uninhabited islands such as Tean.
Romantic Wedding Venue Used by the Stars
Follow in the footsteps of Madonna and Guy Ritchie and marry in one of the most romantic castles in the UK. Skibo Castle dates back to the 12th century and provides a dramatic setting in the Scottish Highlands overlooking Donarch Firth. This exclusive wedding venue is well hidden from public view and guests will be awoken on the day by a kilted piper playing on the terrace. A marble swimming pool, 18-hole golf course and horse riding are all available at this venue. Be prepared to spend around £34,000 to hire this stately home for one night.
Hire one of the World's Most Luxurious Trains
For a wedding with a difference consider getting married aboard the Royal Scotsman. A maximum of 34 guests can dine on world class cuisine and enjoy an evening's entertainment in the Observation Car. With an ever changing backdrop of the Scottish Highlands this will be one wedding where a camera is a must. Wedding packages will include private cabins with en-suite facilities, drinks, meals and entertainment. Expect to pay around £24,000 for a one night wedding package on the Royal Scotsman.
A Wedding in the Famous ZSL London Zoo
One wedding venue that is definitely a bit unusual is the ZSL London Zoo. Located at the edge of the magnificent Regent's Park, ceremonies can be held in beautiful suites that overlook the animals. The Prince Albert Suite can hold 210 dinner guests and boasts a private terrace that overlooks the zoo gardens. Wedding receptions can also take place in one of the actual animal houses including the Gorilla Kingdom or the Clore Rainforest Outlook.
A Royal Wedding Location in Scotland
Medieval Glamis Castle in Forfar dates back to the 11th century and has been a royal residence since 1372. This fairytale castle is surrounded with legends and myths but today looks more like a French Chateau than a fortress. With its soaring turrets and stunning landscaped gardens the castle looks spectacular when illuminated in the evening. Guests should remember that Glamis has been named as one of the most haunted castles in Britain. Wedding reception packages start at £110 per person and ceremony venue hire fees starting at £1,100.
The Ultimate Thrill Seeker's Wedding
Theme park weddings are a great way to increase the wedding day excitement. Alton Towers in Staffordshire is one of the most famous theme parks in the UK. Wedding ceremonies can be held at the park's hotel and guests can spend part of the day, or the following day, enjoying the roller coaster rides of Britain's largest theme park. Alton Towers is also a popular place for hen and stag night parties with packages including hotel rooms and two day theme park tickets.
You might also like...