How To Make Chelsea Buns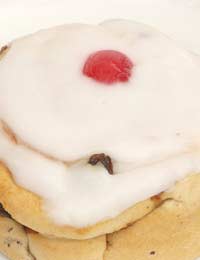 Chelsea buns are a wonderful English sweet treat, made with a simple and easy to follow recipe using easy to find ingredients.
The Chelsea bun was created in the 19th centrury at the Chelsea Bun House on the borders of Chelsea and Pimlico in London. It represents English sweet cuisine at its best: bright, breezy, sweet, and straightforward. It is very common nowadays, and can be found in many restaurants and cafes, and remains a popular choice for those with a sweet tooth. It has a light doughy consistency, and is similar in texture to bread, although is sweeter in taste due to the high sugar and fruit content. It is a delicious sweet bun, well worth trying for those who never have. Here is an easy to follow recipe.
The recipe for Chelsea Buns
The ingredients needed to make Chelsea buns are:
1 level teaspoon of sugar
150 ml milk
2 level teaspoons of dried yeast
200 grams of plain flour
half a level teaspoon of salt
25 grams of lard or margarine
25 grams of softened butter
25 grams dried fruit
25 grams sugar
1 teaspoon milk for glaze
The utensils needed to make Chelsea buns are:
Teaspoon, wooden spoon, round-bladed knife
Measuring jug
Sieve, mixing bowl
An 8-inch (20 centimetre) round cake tin
Pastry rolling pin
Small basin and a small saucepan
Stir in 1 teaspoon of sugar into the milk. Sprinkle the yeast onto this mixture, and leave for 10-15 minutes until frothy.
Meanwhile, sift the flour and salt into the mixing bowl and rub in the fat.
Make a hole in the flour, pour in the milk and yeast, then using a wooden spoon, gradually mix in the flour and beat well until smooth. Cover with a cloth and put in a warm place to rise until twice the original size.
Grease the cake tin.Turn the risen dough out onto a floured board and knead it lightly.Roll out into a 25-centimetre square. Spread the butter evenly over the dough, using the round blade knife. Sprinkle with the fruit and sugar.Damp the edges and roll them up firmly like a Swiss roll.Then press together tightly and cut the roll into 8 slices: put them into the greased tin, and shape them according to personal preference.Allow the mixture to prove in a warm place for 15-20 minutes until twice the size. Heat the oven to 230 °C (425 F/gas mark 7).
Bake the buns for 10 minutes, and then reduce the heat to 190 °C (375 F/gas mark 5) and cook for a further 10 minutes, until golden brown.
Meanwhile, boil 1 teaspoon water and 2 teaspoons sugar in a pan until syrupy. Brush the buns as soon as they come from the oven, so that the syrup dries on. Alternatively, omit the glaze and when the buns are baked and cold, brush the tops over with glacé icing made with 100 grams of icing sugar. Finally, break the buns apart when cool, and enjoy!
You might also like...
thank you for the help on making chelsea buns :D
kitcat324
- 24-Jan-13 @ 10:35 AM