British Airports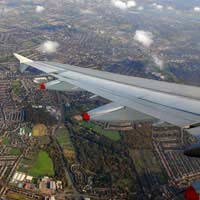 There are many operating airports in Britain today, some dealing with heavy duty air traffic from all over the world and some dealing with domestic airlines which move passengers from one part of the British Isles to the other. Here's a quick a look at just of few of them.
Heathrow Airport
Currently Heathrow airport accepts flights to and from an estimated one hundred and eighty destinations around the globe which take in roughly ninety countries. Heathrow is without doubt one of Britain's largest and indeed busiest airports dealing with many millions of passengers every year. This increased with the opening of Terminal Five in March 2008. Heathrow has its own underground railway (called The Tube) which runs into London, as well as direct shuttle bus services.
Heathrow began its life as a transport base for the Royal Air Force and through the years additional runways and terminals have been added to the complex to make it one of the busiest airports in the world and the second busiest cargo port in the world. Currently Heathrow services the requirements of an estimated sixty-eight million passengers every year.
Manchester Airport
Manchester Airport was opened as an airport in 1928 having successfully played host to the first man to fly solo from London to Manchester in a biplane in 1910. During the war it was used by roughly sixty-thousand airmen; the Lancaster bomber made its inaugural flight from Manchester airport.
During the 80's Manchester was classified as a gateway airport which means that it can handle both short and long haul flights from overseas countries. Plans are already afoot for a new terminal which will mean that Manchester will become the second largest airport in the United Kingdom.
Newcastle Airport
Opening to the public in 1935, Newcastle Airport originally cost around £35,000 to build. During the 50's with the advent of the package holiday Newcastle Airport began handling around five and a half thousand passengers per year. In today's ever increasing passenger market this may seem like an insufficient figure but in the 1950's it was considered to be huge.
During the 1960's the airport underwent extensive modernisation and by the 1070's there were on average some three quarters of a million passengers a year passing through its terminal building. Again in the 1980's and 1990's the airport went under further extensive modernisation and now its terminal buildings and increase capacity enable the airport and its staff to deal with some three and a half million passengers a year.
In recent times the airport has gone through further remodeling and a new twenty-seven million pound extension was added to cope with the steady and increasing influx of passengers.
Newcastle services some seventy-two destinations and around seventy-one different airlines and is situated seven miles outside of Newcastle.
For further information on these airports and indeed the many other airports within the United Kingdom you could visit the British Aviation Authority's website or search for the individual airport site you are interested in. Alternatively your local travel agent should be able to provide you with information especially if you are planning a journey.
You might also like...