How to Make Bread and Butter Pudding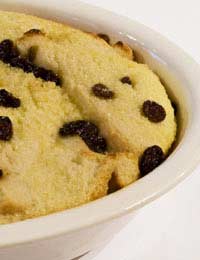 Out of all the recipes in the proud tradition of British cooking, the food called 'Bread and Butter Pudding' is one of the best known and best loved. The name and taste of this particular food evokes a memory of childhood and schooldays, and often a time many years ago – perhaps when life was simpler and more fun.
Even amongst those who profess an inability to cook, bread and butter pudding is one of the only recipes that most people have an innate ability to remember, along with boiling an egg. Some food writers and food historians claim that the origins of this dish lie not in Britain but in Scandinavia, but whatever the specifics of the humble pudding's history are, it is a food that the British have taken very much to their heart.
Making Bread and Butter Pudding
Line a pie dish with thin or thick slices of buttered bread. Both white and wholemeal bread can be used, and this is one of the few recipes where the older the ingredient is, the better. It is a great way of using up left over bread – perhaps one of the greenest recipes available!
To add a slightly more exotic twist to this classic dish, cover this first layer with some stewed apple or other fruit. It is possible to really evoke the taste of a British summertime by using stewed Bramley or Cox apples varieties, and some locally picked blackberries or raspberries.
Then put in another layer of bread and butter, more fruit if desired, and then finally a top layer of more bread and butter. Currants also work well thrown in at this stage.
On top of all this, mix 2 eggs together with a cup or 2 of milk, and pour over the pudding. Sprinkle a little sugar or honey and a pinch of nutmeg on top, and then bake the dish in a moderate oven until set and browned.
Enjoying a Classic Dish
In many restaurants now, up and down the Country, this most classic of all the British recipes is having a renaissance. Bread and butter pudding is being served with exotic fruits, luxurious organic creamy ice creams, and sweet herbs like mint to give an extra dimension to the food flavour and taste.
It is one of the simplest recipes to follow, and perhaps it is this simplicity, with easy to find ingredients such as bread, milk, eggs, butter and sugar, that give bread and butter pudding its enduring appeal, even to the rapidly changing and increasingly sophisticated palates of British diners.
Even the restaurant critics and food writers that flood the media and book stands with food writing continually return to this most classic of British recipes, and write with delight and joy when they find bread and butter pudding on a menu at some new or prestigious restaurant.
Whether made very simply, or given some interesting new twist, bread and butter pudding remains high in the tradition of British cooking, and it has a lingering appeal, simplicity, and flavour that makes it unique and well loved.
You might also like...