Famous British Desserts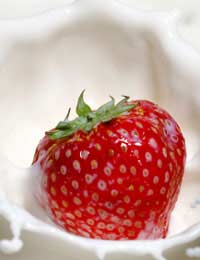 Britain, throughout its long and colourful history, has provided the wider world with some truly spectacular innovators. Yet somehow British cuisine has struggled to achieve the worldwide appreciation and status that other aspects of our culture have. And whilst in decades gone by, this may have been a fair opinion of some of our more eccentric dishes (jellied eels and tripe spring to mind), the fact remains that the world still has a lot to learn from good, honest modern British cuisine. Especially British desserts and puddings.
Quite simply, nobody can 'do' puddings like the British.
Some Great British Favourites
When it comes to puddings, we Brits know our stuff. So what better way to celebrate our culinary crowning glory by exploring a selection of some of our more famous traditional British desserts.
Apples
British orchards are host to the most diverse apple stocks in the world, so it's not surprising to learn that the British use the humble apple in many aspects of their cooking. From the simple stewed apple, stuffed with raisins and Demerara sugar to apple tart served with a dollop of fresh, thick double cream. One of our favourites is a chunky apple crumble coated in thick hot custard. Here's the basic apple crumble recipe, but you can add nuts or crushed ginger biscuits to the topping - or cinnamon to the filling for an extra twist.
175g plain flour
75g butter
50g caster sugar
12g Demerara sugar
450g cooking apples, peeled, cored and sliced
Sift the flour into a mixing bowl and add the diced butter, rub together with your fingertips until all the butter has been mixed in and the mixture has a breadcrumb like texture. Add the caster sugar and mix in well. Place the sliced apples in an oven proof dish and cover with a sprinkling of sugar and couple of tablespoons of water or fruit juice. Cover with the crumble topping and sprinkle the demerara sugar over the top. Bake for 45 minutes at around 200ºC.
Puddings Galore
The British really pull out all the stops when it comes to rich, sumptuous puddings. These traditional dishes have evolved over the years but in essence, remain similar to the recipes used decades, or even centuries ago. Take the traditional steamed Christmas pudding for instance, with its abundance of candied fruit, brandy or sherry, sugar and suet - a truly festive favourite.
Quality, Not Quantity
Another British delight is the treacle tart. Best enjoyed in a smaller portions, this delightfully saccharin dessert can be paired with dash of double cream or vanilla ice cream.
Spectacular Sponges
Sponge: this British staple adorns many a cake stand and afternoon tea tray, but has also slipped into the nation's dessert bowls in a variety of guises. From the once innocently named Spotted Dick, to Sticky Toffee Pudding to Jam Roly Poly. Many of these classic puddings are steamed, rather than baked. Here is the most popular recipe for spotted dick:
285g self raising flour
150g suet
150ml milk
110 to 160g raisins
85g caster sugar
Grated zest of 1 lemon
A pinch of Salt
Mix all of the dry ingredients together, then add enough milk to make a soft dough. Turn out onto a floured surface and roll to produce a sausage shape around 5 cm in diameter and 15cm long. Dust a clean tea towel lightly with flour, or brush two sheets of greaseproof paper or baking parchment with melted butter and wrap around the dough roll, loosely but securely, leaving some space for it to increase in size. Tie the ends with non-coloured string and place in the steamer. Steam for 1½ to 2 hours.
Delicious served with creamy, hot custard.
Lighter Summer Delights
Nothing says British summer more than strawberries and cream. This popular combination makes for a deceitfully simple and refreshing famous British dessert. Strawberries are also a key ingredient in the delightfully slapdash Eton Mess. Originating in the famous Eton college, the dish supposedly came about after a Labrador dog sat on a picnic basket and is simply a mixture of broken meringue pieces, strawberries and cream. Delightful, when washed down with a glass or two of Pimms.
A Trifle Tasty?
Often mocked, the humble trifle has been created by practically every have-a-go cook in the country, each of us claiming our own version to be the best/most traditional. Trifle has - in one form or another - been around for centuries. A collection of recipes published by King Charles I's cook in the 1600s included something called a "Foole," which is close to what we consider a trifle today and featured a bread base soaked with liquor.
The most commonly concocted trifle of today consists of sponge (madeira sponge or any leftovers), sherry, jelly, custard and cream.
Of course, this article only just touches on the array of famous British desserts – but there are so many more national, regional and local desserts to be discovered and devoured. So if your appetite has been well and truly whet, then why not delve a little deeper and explore Britain's best kept secrets – our dessert menus!
You might also like...