How To Make Eccles Cakes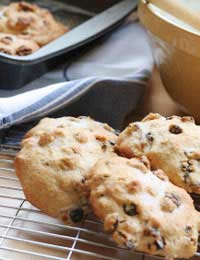 Eccles Cakes are a very distinctive and particular type of English cake. They are not one large cake, like a chocolate or a birthday cake, but small and individual currant-filled pastries, which go perfectly with a cup of tea. Eccles cakes are a unique type of small round cake that uses pastry to encase currants in the centre.
The history and origination of Eccles cakes is not easy to discover. The Lancashire town of Eccles claim them as their own, but they are claimed by many areas in the UK (there are several places called Eccles), but happily they are now available right across the UK, in cafes as well as shops and supermarkets.
In taste and consistency Eccles cakes are similar to Banbury cakes (which are known to be from the Oxfordshire town of Banbury), but the main difference is that Eccles cakes are filled with just currants, and Banbury cakes have a mixture of currants, raisins, and candied peel. Perhaps the Banbury cake was created during a wealthier time in old England, perhaps to celebrate winning a war, or the coronation of a new monarch, or maybe just a humble local festival.
The Recipe for Eccles cakes
The ingredients needed to make a batch of this type of cake are:
1 large packet of frozen puff pastry
50g of currants
1 level teaspoon of flour
50g of Demerara sugar
half a level teaspoon of cinnamon
half a level teaspoon of nutmeg
25g of butter
a little milk or egg white
1-2 teaspoons of caster sugar
Heat the oven to 220ºC (425 F/gas mark 7). Leave the pastry at room temperature until it is soft.Mix the currants and flour, sugar and spices together in a bowl, then melt the butter and add this to the mixture. Roll out the pastry thinly on a floured board and cut into rounds with a cutter. Then, place 1 level teaspoon of the currant mixture in the centre of each pastry round. Brush the edges of the pastry with milk or egg white, draw them up to the centre and enclose the filling. Turn the cakes over, and roll them out lightly until the currant mixture shows just under the pastry and the cakes are circular.
Traditionally Eccles cakes are decorated with 3 small cuts on – now is the time to do this. Brush them with milk or egg white, and sprinkle with a little of the caster sugar. Put them on a baking tray, and bake in the top of the oven, for about 20 minutes, or until the pastry is golden.
Enjoying the range of English cakes
Eccles cakes are just one of example of the range of delicious and tasty cakes available across the UK. From Eccles cakes to rock buns, scones, Chelsea buns, flapjack, mince pies, Christmas pudding with brandy butter, brack, and rich fruit cake, to name just a few of the wonderful selection of sweet treats available. One word of caution however: when sampling them all, watch the waistline and go easy on the sugar consumption!
You might also like...