Gordon Brown's Filo Pastry Parcels - British or Not?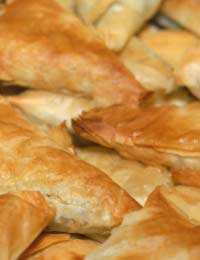 From time to time we make comments to the press and the Daily Sport contacted us with a slightly unusual request..
The All Saints Parish Church in Ilkley, West Yorkshire wrote to around 100 high profile people requesting that they submit recipes for their favourite dishes. In all 97 'celebrities' submitted a recipe which were compiled into the Saints and Celebrities Cookbook.
The simplest was two pieces of toast by the Bishop of Woolich, Colin Buchanan. Most interestingly the PM, Mr Gordon Brown sent in a recipe for a vegetable and mozzarella parcel.
The Daily Sport, a good pie eating bunch, thought that the PM should have chosen a traditional British pie dish and duly went on to report the fact in their very unique style. They asked us for a comment and, in the spirit of 'CHOOSING BRITISH' we duly obliged. You can read the article below:
And to a degree you have to see their point! We have a great cheese industry and some truly great pie makers. Anyhow you can make your own mind up - maybe try making the recipes below and see how you get on and if you think it's in the spirit of 'choosing British' and whether our PM should have chosen something more traditional and British.
Traditional British Steak and Kidney Pie
Preheat your oven to 200ºC
For the pie filling:
500g British Steak and kidney cut into chunks
1 large onion, peeled and chopped
1tablespoon oil
Flour to coat meat
A pinch of mixed herbs
About 1/2 pint of good beef stock
Corn flour or gravy granules
Salt and pepper to season
For the pastry...
225g plain flour
50g lard
50g margarine or butter
half a teaspoon of salt
2-3 tablespoons cold water (preferably refrigerated)
Heat the oil in a deep frying pan or heavy bottomed saucepan and cook the onions until they're soft. Coat the steak and kidney in flour and brown in the pan. Next add the herbs, and stock then simmer until tender. If necessary thicken the liquid with cornflour or gravy granules. A thicker gravy is better for the pie filling. While the meat is simmering, make your short crust pastry.
Place the meat mixture in a deep pie dish and cover with the pastry topping. Bake for 30 to 40 minutes or until pastry is golden.
To make Gordon Brown's Vegetable and mozzarella parcels
1 packet filo pastry
Olive oil
1 crushed clove of garlic
1 courgette
1 of each colour of pepper
1 red onion
250g mushrooms
8 cherry tomatoes
2 sprigs of basil
200ml passata
1 buffalo mozzarella
Method:
Cut all the vegetables into small pieces.
Cook the onion, peppers and courgettes in olive oil with the garlic until soft.
Add the cherry tomatoes and mushrooms.
Stir in enough of the passata to bind.
Leave to cool, add basil and torn pieces of mozzarella.
Lay out filo pastry in two layers (brushed with a little oil or melted butter between) and cut into squares.
Place a portion of the mixture in centre of each square and fold into parcels.
Brush with a little oil or melted butter and bake in a hot oven at 180C until golden.
Serve with a little of the tomato sauce.
Share and Enjoy (maybe with the Cabinet)...
You might also like...
Ibelieve you can`t go wrong with a British meat pie,whether it`s steak and kidney,steak and mushroom,chicken and leek,etc. It`s one of the pillars of British cooking at it`s finest.For Gordon Brown to contribute a trendy,plain and uninspiring parcel to a British cookbook is an insult. By the way,I am an American of British heritage(English,Scottish,Welsh,and Ulster-Scot) and I prepare many of British dish.
Charles
- 22-Jan-12 @ 3:20 PM