How To Make a Traditional Roast Dinner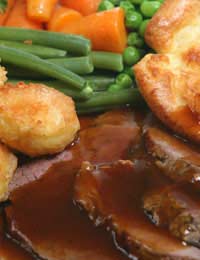 A traditional roast dinner otherwise known as a Sunday roast, as it is commonly eaten in the UK on a Sunday, is one of the highlights of British cuisine. It is called a traditional meal because it is known to have been prepared in this way for hundreds of years in Britain, and it is a way of gathering family and friends together on a weekend, to congregate around the centrepiece of a roast. Carving the meat is felt to be the highlight and the traditional starting point for the meal, once the meat is brought from the oven and placed on the table.
The meal will usually consist of a type of meat, usually beef or pork or chicken, with accompanying roasted potatoes and other vegetables, affectionately known as the trimmings. The extra vegetables might include cabbage, carrots, and a green vegetable, such as broccoli or sprouts, if in season.
The meat can be substituted for a vegetarian alternative, perhaps a nut loaf, so that vegetarians can enjoy the tradition of a roast dinner as well. It is usually served with lashings of meaty gravy as well, to provide extra taste, flavour and moistness to the meat.
Making a Traditional Roast
To make the roast dinner, assemble whichever meat you have chosen, along with potatoes and fresh seasonal vegetables. It is a good idea to consult everyone who will eat the meal, as many people have preferences for beef, pork, chicken, lamb, or indeed none of these options.
If you have not cooked a large piece of meat before, consult with a butcher, and buy a recommended piece of meat from them, taking note of any special cooking instructions and the length of time required.
Roasting food in an oven is basically a long and slow method of cooking the meat in its own juices, turning it every so often, so that it doesn't dry out or burn. Each type of meat, and each different cut of meat will take different cooking times. For a rough estimate a large piece of beef or pork could take up to 3 hours roasting time.
Make sure to use good quality cooking oil in a large oven dish. This could be either vegetable oil or olive oil. Different types of cooking oils have different tastes, so be sure to know what your family and guests like.The meat should be started first, and could be accompanied by garlic, onions and fresh seasonal herbs, such as sage, thyme, marjoram and parsley.
While the meat is in the oven, cooking slowly at its correct temperature, this is the time to cut and prepare the potatoes for roasting. A worthwhile tip when preparing to roast potatoes is that by par boiling them, the roasting time is reduced, and they can have a fluffier, slightly bashed consistency, rather than hard, over roasted and tough. Par boiling potatoes need only take 10 to 15 minutes at the most, and then the water can be drained from the pan, or better still, set aside to boil the vegetables in.
The potatoes should only be added to the meat or in a separate roasting dish in the oven, about 40 minutes before the roast meat is expected to be fully cooked and ready. Most vegetables only need to be cooked for a short time, generally around 10 minutes, so time should be taken to fully prepare for all the cooking stages of this dinner.
A Sunday roast, or a traditional roast dinner, can be a delicious feast for everyone to enjoy, so plan it well beforehand and cook with love and care, so that it becomes a truly scrumptious and enjoyable dinner.
You might also like...