What Are Farmer's Markets?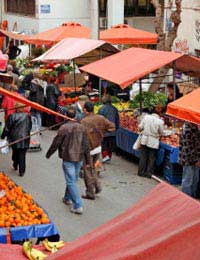 Farmer's markets are regular events in the UK often weekly, sometimes fortnightly, monthly or so on, where farmers and food growers and suppliers set up stalls in a town or city centre and sell their produce direct to the public.
They are not a new phenomena – these markets have happened for many years, but with the growing interest in organic and local food, farmer's markets have become very popular and even trendy, particularly with gourmet food consumers, and those seeking better tasting food.
What is Available From Farmer's Markets?
The quick answer to that is pretty much anything, food-wise, that can be grown or produced on a farm. We explored two farmer's markets, 1 in Cambridge and 1 in Bristol, the following fresh produce was available:
Eggs (free-range, organic, hen eggs and geese eggs)
Bread (an amazing range of whole-wheat, spelt, sourdough)
Local meats (West Country beef/pork/chicken)
Local vegetables (a proliferation of veg, including local chard and asparagus)
Local fruits (local apples particularly)
Locally produced wines, beers and ciders (including a strong apple perry)
Where can They be Found?
Farmer's markets are usually to be found in the centre of a town or city, close to the main shopping area, making it easy for shoppers who are already out shopping to locate, purchase and carry their goods. A main consideration of where to site the market is for the farmer's ease of access to the site: dropping off goods to sell and collecting their stall equipment (signs and posters, a till, any remaining produce) afterwards.
The market will be well advertised: it is in everyone's interests that the markets are popular and well attended, so advertising is crucial. Look in your local city centre for posters, or listen out for word of mouth advertising – your friends and neighbours are likely to know. Failing that, look in the local newspaper or contact your local council.
It is unlikely that you will have to leave your local area to find a farmer's market.The purpose of them is that local farmers come to the shoppers. They are organised in such a way that they may rotate locations on certain days, i.e. in one city every week on a certain day, and in another nearby town on another day that week.
The schedule also depends on the collective of farmers running the market, and also on which member of the farm can attend, due to farming and growing commitments on the farm that week.
Benefits of Buying at a Farmer's Market
The benefits to the consumer of buying produce from a farmer's market will be covered in more detail in a following article on this website, but in general the great benefit of buying produce from these markets is seeing who grows it, and having access to that farmer or grower.
The markets are also increasingly social shopping events, with farmers and consumers striking up a good rapport, and a growing reliance and relationship between producer and consumer. Some markets now have coffee and tea stands, and most also have lots of written and verbal information about food and the farming industry in the UK.
Farmers markets are great places to go with questions about food, as well as your shopping bags!
You might also like...