Standards Set On Farmer's Markets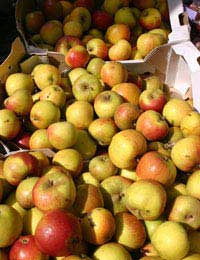 Farmer's markets across the country originally started as a loose collection of farmers and producers coming together regularly to sell their produce to the public, but as they have become more organised, and have now been established in most towns and cities, they have set self-governing rules and accepted some measure of standards and regulations from local trading authorities.
These vary from area to area, but to give an example, the following guidelines have been set down by the association of farmer's markets that operate in the Gloucestershire region of Britain.
Case Study: Fresh & Local Farmer's Markets, Gloucestershire
This organisation of farmer's markets covers the city of Gloucester, Malmesbury, Stroud, Swindon and Stow on the Wold. The umbrella organisation, Made In Stroud, was set up in 1990, and as well as co-ordinating the local farmer's markets, they run a range of shops on high streets, selling the same sorts of produce available on the markets.
Food Safety Policy
The following are some of their standards that they have set to run the local farmer's markets by.
All stallholders should hold a current basic food hygiene certificate
All food stallholders must be registered as a food business with their Local Authority
Temperatures for high-risk foods, i.e. fish and meat, must be carefully regulated, and the suitable refrigeration equipment used
Raw and cooked foods must be kept apart at all times
Sensible steps must be taken to ensure food safety at all times
All stallholders must provide their own utensil and hand-washing facilities
The stalls and stallholders should maintain a professional appearance
A high standard of cleanliness must be maintained at all times
The name and address of the business must be displayed on the stall at all times
Any scales used must be approved
Food should be labelled according to current legislation
A qualified electrician must have inspected any appliances recently
Any electrical cables must be waterproof, and be taped down securely with insulation tape
Criteria for stallholders and their produce:
Produce must be grown or produced within 30 miles of the market
Only the farmer or producer's produce can be sold on their stall
The stalls must be staffed by the producer, or an employee who has knowledge of the growing or production methods used
No bought in or re-packaged goods are to be sold within the market
Only farms certified by the relevant bodies as 'organic' can use this label in their advertising
No GM (genetically modified) foods are allowed to be sold
High Standards, Safe Regulation, and a Good Environment
In addition to self-regulation by a consortium of markets, in co-operation with their local Authority, there now exists in Britain a body called FARMA; the National Farm Retail and Market Association, which certifies genuine farmer's markets, with similar criteria as the example shown.
This, in addition to support and advice given to farmer's markets from the Soil Association, the leading non-governmental organisation campaigning for organic and better-quality food, agriculture and food education, highlights that farmer's markets are run and operated across Britain with high standards, and are safe as well as enjoyable places for consumers to buy great quality fresh, local and seasonal produce. They sell the best of British real food.
You might also like...