Buying At Farmer's Markets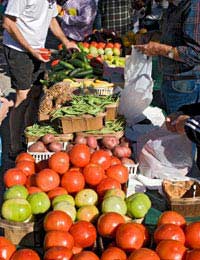 There are many benefits to the consumer of buying their produce at a local farmer's market encompassing health, economic, environmental, and social benefits.
The Health Benefits
Primarily, produce available at a farmer's market will have been grown organically, without the use of pesticides, or washed in chlorine or other nasty preservatives that so many of our shop-bought fruit and vegetables are these days.
If the produce hasn't been grown organically, then it will be labelled as such, and will have been grown as sustainably as possible, that is with regard to the soil and the farming infrastructure.
Most fish sold at farmer's markets is caught from wild stock, so the consumer won't be buying farmed fish that often features preservatives and colourings (in the fish food).Again, the origin of the fish should be clearly labelled. If in doubt, ask the seller.
As with fish, the meat sold at a farmers market is likely to have been fed on organic food, probably hand reared, and at least able to roam free range. Farmer's selling meat at the market are likely to be extremely proud of their product, and will happily explain how it is produced. It may have even been slaughtered on the farm.
The Economic Benefits
There are also several economic benefits to shopping at a local farmer's market. While the produce may not necessarily be cheaper than that available at a local supermarket – which can undercut most other stores prices by buying in bulk, and by buying the cheapest product from anywhere around the world, spending consumer pounds in a local system, keeps the money in the local network, and strengthens the local economy.
Paying a farmer directly for his produce, cuts out the middlemen who import and supply goods, and allows a local farmer to re-invest that money directly into his farm and his agricultural livelihood, instead of being in the pocket of a huge agri-business who dictates to their farmers how and what to grow each year, or in debt to the bank.
The Environmental Benefits
The main benefit to the environment by shopping locally is that food is not transported huge distances between producer and consumer. Saving on travel prevents the output of carbon into the environment produced by planes, trains, and trucks. Of course, this process will still continue, but the more we can personally and collectively do to reduce it, the more we will be doing to preserve and save our beautiful environment.
The Social Benefits
Buying locally is a social experience – by buying from a regular seller, we get to know the seller and they get to know us, our likes and dislikes. By getting to know those selling at the farmer's market, the consumer will taste a wide variety of fresh and local produce, and probably open up their taste buds to new culinary experiences. The farmers will get to know their buyer's preferences, and will try and stock more of those.
Also, buying locally binds a community together. Buying together from a farmer's market in the local area will slowly have great community benefits, and could lead to the creation of other enterprises. Talk to other shoppers and find out what they are buying.Swap recipes, or band together and go visit some of the farmers on their farms and see the produce in the yard or in the field.
You might also like...