Prices At Farmer's Markets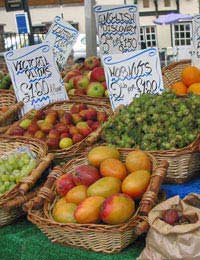 A Sample Farmer's Market: Bristol Corn Street
Bristol, in south-west England, is a city whose population strongly supports local, organic and seasonal food, and it's main farmer's market, in the city centre, in Corn Street, was one of the first established in the UK. A range of products, usually different each week, depending on seasonality and availability, is available, and local markets should be visited each week to see what is new and in season. Corn Street is an old cobbled street, closed off to cars on market day, and on market days is always busy and bustling with trade and energy. Free samples are often available at most stalls too!
The Cost of some Typical Products Available
The following produce and products were on sale on a Wednesday in August at Bristol farmer's market, on Corn Street:
Lemon marmalade, with honey: 1 jar (340g) £1.80 (delicious - spread thickly on whole wheat toast)
Pure apple juice – made with the Romany russet apple variety (medium dry): 75cl £2.80 (an intense, succulent juice)
Hickory smoked beef sausages, made with at least 85% beef: £5.70 per kilo
Lavender products: £3.50 for a small bottle of lavender oil (great for relaxing massages, or for fragrancing a room by using in an oil burner)
Romanesque cabbage variety: 90p each (a flavour-filled variety)
Runner beans: 80p per large handful (grown locally)
Coriander herb bunch (organic): £1 (80g)
Crab: small tub for £3 (great in sandwiches)
Cookies: homemade carob chip and hazelnut, 40p each or 4 for £1.50
Marrows: 80p each (large enough to feed a hungry family, and packed full of goodness)
Eggs (organic): half a dozen for 85p
Fishcakes: made from organic trout, cooked in Thai-style (large) £3 per pack of 2 (delicious!)
Farmer's Markets Vs Supermarkets
It is difficult and probably not worth trying to compare the prices of products at local city farmer's markets, with products available at local supermarkets, because the range of products is different between the two. Farmer's markets tend to attract farmers and producers who can produce a relatively small amount of their goods, usually not the type of producer/supplier who can make enough or grow enough on a continual basis to supply a large national supermarket chain.
However, from the above list, single items like bunches of herbs, single vegetable produce like marrows, and organic eggs, all compare well against supermarket prices. Prices for organic produce in supermarkets is high due to supply, transport costs, and organic certification – prices that aren't always passed back to the farmer from the supermarket. Support the farmer, not the supplier.
Supporting Farmer's Markets
Buying produce from a farmer's market creates an economic chain directly between the consumer and the farmer, bypassing suppliers and supermarkets. It allows the consumer to find and try some real gourmet food: delicacies and varieties made on a small scale, in their local area.
Homemade breads, biscuits, locally-smoked fish and meats, sauces and juices; all often made in small batches at the producers kitchen table, or grown in a small kitchen garden, and picked , packed and delivered that morning. This is the home-style type of local foods available at local weekly farmer's markets.
You might also like...