Well Known British Writers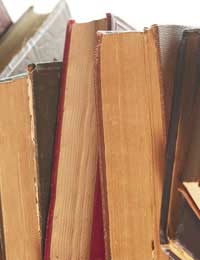 British writers have been part of the world's literary stage for many hundreds of years. Producing some of the finest writers in the world is something that the United Kingdom is very proud of. Here we look at some of the most famous writers that Britain has nurtured and exported.
Lewis Carroll (1832-1898)
Born the son of a parson Charles Lutwidge Dodgson had a mind for mathematics and for imaginary prose. Ordained as a deacon at Christ Church Oxford (1861) he did not often preach but spent most of his time writing works of children's fiction such as Alice in Wonderland (1865), Alice through the Looking Glass (1871) and What Alice Found There (1871). These were written as a way to entertain Alice, one of the daughters of the then dean of Christ Church. These adventures have been something have enthralled both children and adults alike for the last century and a half and will continue to do for many years to come. He was also an accomplished mathematician and wrote on the subject and became one of their forefathers of portrait photography. His most famous poem was The Hunting of the Snark (1876).
Jane Austen (1775-1817)
When she died at the age of 41 Jane Austen was one of Britain's most endearing writers and to this day her works have stood the test of time bringing humanity and compassion to her characters and her work. The daughter of the Reverend George Austen, Jane Austen was educated for the most part at home by her mother in the company of her brother who would provide lists of what was to be read. Her novels include Northanger Abbey, Emma, Pride and Prejudice, Mansfield Park and Persuasion. Upon her death in 1817 she was working on another novel entitled Sandition, which remains unfinished to this day. No other author has attempted to complete the work.
Thomas Hardy (1840-1928)
Thomas Hardy was born the son of a mason and building contractor. At the age of 22 Hardy began to write poems but he was persuaded to try writing a novel. The novel entitled The Poor Man and The Lady was rejected and as a result he destroyed the manuscript but continued to write. In 1874 he wrote 'Far from the maddening Crowd' which became a success and this was followed by The Return of the Native and The Mayor of Casterbridge in 1878. His works Tess of the D'Urbervilles and Jude the Obscure caused controversy although successful and he vowed never to write another novel again.
Marrying his wife in 1874 and out living her – she died in 1912 – Hardy wrote the poem Veteris Vestigiae Flammae (Vestiges of an Old Flame) in her memory. Hardy died on the 11th of January 1928 and was cremated, his ashes to be buried at Poets Corner in Westminster Abbey. Legend has it that a cat made off with his heart and returned to the place of his birth where it was buried upon its death.
Charles Dickens (1812-1870)
Considerer by many to be one of Britain's finest authors Charles Dickens had his first taste of writing when he had the story Dinner at Poplar Walk published in 1833. An avid reader from an early age Dickens looked back upon his upbringing and the effects of poverty and starvation for inspiration. Dickens was a very prolific writer and many of his novels were originally published in what would today call serialisations in various magazines – some of which Dickens worked for as editor.
During his life he also wrote plays and performed for Queen Victoria as well as writing travel books and campaigning against slavery in the Americas. Some of his most memorable works include A Christmas Carol, Martin Chuzzlewit, Great Expectations, Nicholas Nickleby and David Copperfield.
Again a cross section of the writers Britain has produced and even now long after these writers have gone their written legacies live on to enthral generation after generation and inspiring a new breed of exciting and powerful writers to take up their pens.
You might also like...