Why Buy Local?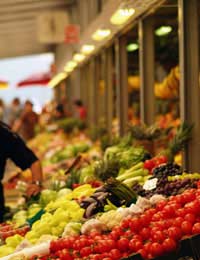 The principal reason for buying locally is supporting the local economy and keeping it alive and thriving.
Too many of our goods are imported from overseas. This includes food as well as clothing, cars, toys, computers and electrical hardware of all sorts. While one national economy may falter, another one will thrive. China for instance is said to be close to being the world's strongest economy within a decade. This is on the back of cheap Chinese imports of its goods around the world.
Supporting a Local Economy
If a consumer spends their money on a product that has been grown or made locally, then the cost of that product supports both the manufacturer or farmer, and the whole local infrastructure that has gone into the production. This may involve several employees or many. It could involve further manufacturers further down the supply chain: those that supply packaging to the initial producer, for instance.
Buying locally keeps consumers' cash in a local economic loop, which flows easier and more rapidly between supplier and consumer. For instance, if a diary farmer can supply milk to a village population, and the villagers know they can buy directly from the farm, rather than drive 15 miles to the nearest supermarket, then the villagers will buy locally.
If that dairy farmer generates more income from the surrounding area, he may choose to employ more people from the area, or open up some of his land to public access, or even to make a donation to the local school or church, or village fund.
Importing & Exporting
As well as importing goods into the country that are often cheaper than those made here, most countries export their goods. Often this is to promote the country through the excellence of its goods, like Scottish whiskey in the case of the UK, but often it is simply to meet International trade targets, which are part of a Government's larger economic plan and International trade agreement.
Taking goods out of a national system can take energy from the production for the local economy. This means that by focusing on producing for an overseas market, the emphasis on the national and local markets is reduced, and on the local level consumers have less choice and less variety. Local consumers often matter less than the International market.
Local Currencies
A recent innovation in local economies (and around the world) has been the LETS system of trading. LETS means local economic trading system, and it is in effect a mini currency, entirely run in a defined local area, say the city of Cambridge or the City of Edinburgh, using its own unit. In Edinburgh for instance the currency is the Reekie.
Members join the LETS community and offer their services – plumbing for instance might be offered at 15 reekies an hour, and another member buys that service, paying with their reekie chequebook.
It is not a complicated system to use or get involved with – it entirely depends on user and community input. It is not intended to replace the standard economy; if anything, it exists to enhance and work alongside the conventional way of buying and selling.Look out for any LETS systems that operate in your local area.
Community and the Consumer
The principle strength of supporting the local economy, either by shopping locally or joining a LETS system, is to strengthen the local community, and in turn be strengthened as an individual within it. Getting involved with your local community, through activism or membership of various groups, is a really valuable activity and very worthwhile.
You might also like...