Buying at Farm Shops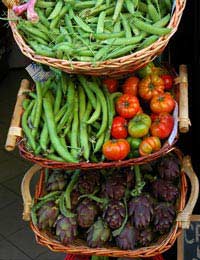 Farm shops are, as the name suggests, based in farms - often converted from an unused barn - from which the farmer can sell produce directly to the passing public. Some are simple affairs, with just a counter for the food and a till, or at the other end of the scale, some are plush, spacious, with many counters and separated food areas, knowledgeable staff, food tastings, freezers, wine and beer stalls and possibly even a cafe or tearoom area.
This is a step up from the traditional way of selling from a stall or even just a box by the side of the road. Also, as farm shops have become more established and known about, people will make special trips to buy food and fancy, gourmet food items from their local farm shop.
What Can You Expect to Find at a Farm Shop?
Most farm shops will sell a range of produce that comes directly from the farm, depending on its size. This will include seasonal fruit and vegetables, depending upon the farmer's main crops, and quite probably some meat and/or fish products. While these items may not be from his farm, depending on the size and scale of the operation, it is highly likely that he will have sourced these items locally, or act as a selling agent for other local farmers.
It is generally unlikely that a farmer will have too many imported items (from outside the UK, or even from outside the local county) in the shop, as this would involve a big supply network, which would be too expensive and not cost-effective for a small enterprise to invest in.
Buy Local, Buy Seasonal!
Farm shops are a convenient way for the public to buy fresh, locally-grown or sourced food, direct from the farmer. It is a great way to engage with food growers and suppliers, and get closer to the growing source, and see some of the food industry and those who work in it, close up. It also means that consumers will be buying seasonal produce that is grown in accordance with the seasons of the area and country in which they live.
Buying direct from a farmer in this way, puts money directly into the farmer's pocket, rather than circuitously, through the chain of supermarkets and distributors etc. This enables farmers to reinvest money in their farms, and to ensure that the farming industry in the UK, both small and medium scale, not only survives, but thrives. This is crucial for the health of the British food economy, and ultimately, good for the consumer too.
Finding the Nearest Farm Shop!
Farm shops usually advertise in local papers, or the local media. Check in your local community newsletter, or community notice board. Ask friends and neighbours if they know of any farm shops in the area. Alternatively, look in your local telephone directory, or yellow pages. The fun way to discover a farm shop is also to get out in the car and take a drive in the surrounding countryside. Explore the country roads, and discover a great local farm shop in the process!
You might also like...