Organic Vegetables in Britain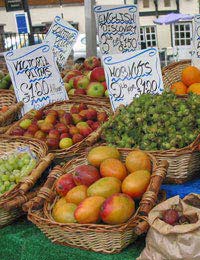 With the emphasis shifting towards healthy eating and away from the notion that food has to be fast, many people are taking to growing their own vegetables. It is a practice once seemed only carried out by farmers or families living in the countryside with sprawling acres of land but now the trend is moving more towards urban areas where garden space is not necessarily at a premium but can be made to pay for itself year in, year out.
Anyone with a patch of garden can grow vegetables and can find they are saving money and also producing something that can be eaten by the entire family.
Potatoes, carrots, broccoli, sprouts, tomatoes; the list of vegetables being grown in greenhouses, gardens and allotments is experiencing a sharp increase.
Growing Organic Vegetables
When growing organic vegetables one of the most important elements is to avoid chemical intervention. Where in times past many gardeners and keen vegetable growers would have opted for the cheaper methods of weed killers and pesticides, the emphasis is now on using more natural methods, such as manure.
There are a surprising number of horse owners in the United Kingdom but what is more surprising about these numbers is how close many of them are to the towns and suburban areas of the country. With this in mind if you are growing vegetables it is not as difficult as you might think to find someone who can supply you with one of nature's most nutritious and economical means of feeding your up and coming crops.
Root Crops
Root crops – as the name suggests – are vegetables as spring onions, radishes and carrots. They are categorised as root crops because their roots grow underneath the soil. All of these can be grown in soil just a few inches deep and given the right level of care and attention can produce a crop that will be bring colour, flavour and texture to any dining table.
Cabbages
Cabbages can be sown for harvesting during the winter months and should ideally begin their lifespan in a greenhouse – or covered area where heat and moisture are equally balanced. During these months you will find that they can be used to produce soups, salads and garnishes for the more heartier of meals such as steaks.
Potatoes
Potatoes are not root vegetables but are often considered to be so because of the so-called 'eyes' they produce which turn to seed and produce buds. When they are at the point of producing buds they should be planted in a tray or area where the frost can't get at them with the buds pointing upwards.
Again potatoes can produce a healthy and reoccurring crop that can provide delicious boiled, jacket, mashed or roasted potatoes as an accompaniment to most meals or as a meal by themselves
As we have already mentioned, with the emphasis now firmly on healthier eating producing such vegetables in the confines of your own garden or allotment can not only instil a great sense of achievement but also reduce the cost of shopping for such items on the high street.
You might also like...