The British Organic Directory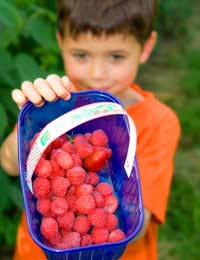 The Organic Directory is a project devised and run by the Soil Association, Britain's leading NGO(non-Governmental Organisation) that campaigns for organic food, improved agricultural practices, and education about food and agriculture.
The directory, available both in printed book format and online, is a directory of all things organic – cafes, restaurants and shops where the public can buy organic food and products.
It also lists organic bed and breakfasts, hotels and other places to stay in Britain where the public can stay in the knowledge that they will be served good quality, organic food, and the establishment uses organic products; examples might be organic cotton bedlinen, or organic oil shower and bath products.
The Ethos of Organic
There is definitely an organic revolution underway in Britain, and the notion of eating and living organically is closely tied in to the green movement – caring for the earth and the environment we live in. Eating well and eating healthily extends to a care for the soil that our food is grown in, and a care for the animals that we rear in order to bring meat to our table.
Using organic products, talking to friends and family and spreading the message through the local community is important too. The better our food is, or the healthier food is, and as the conditions that food is made in improve, ethically and environmentally, then the healthier we as a human community become, with less disease and (hopefully) less tension between us. This is a goal of the organic movement, and it may seem a long way off, but the longer journey starts with small steps – eating organically. This is something we can all introduce slowly into our diet.
Goods and Services Available through the Organic Directory
Whatever food or products an ordinary consumer uses now, with a little searching, and using resources such as the Organic Directory, those same products can be found in an organic format.
Most items these days are, or can be, produced organically: from ear buds using organic cotton, to lollipops made with organic fruit syrup – if the consumer wants a product, and there is enough consumer demand, it can be made. Organic products may cost a little more than regular ones, but as demand grows, the price will fall.
Some other goods and services on the online Organic Directory include:
Organic baby products, such as nappies, creams, and food
Deliveries of organic food through box schemes in local areas
Cosmetics and toiletries, all produced ethically, i.e. without animal testing
Visits to Organic farms across the Country
Information about Farmer's Markets in every area, including location and times
Organic manufacturing and Industry
Organic pet supplies
Garden and farm supplies, including seeds, tools and sundries for the gardener
Textiles
Caterers who will provide organic food for any event
Get Searching – use the Organic Directory
The Organic Directory is available online. It is free to use, and requires no specialistknowledge : just type in the produce or service you are looking for, and the area of Britain in which you live (or want the product/s delivered to), and the directory will search its database. It is a great resource, and as the number of organic service and product/food suppliers is growing steadily in Britain, the chances are the consumer will find what they are looking for in the area they are in. It is also possible to buy the annual Directory in book form: just ask your bookseller today.
You might also like...