Supermarkets & Organic Food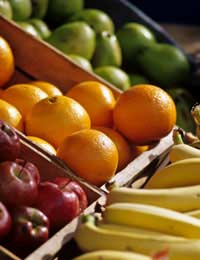 Can supermarkets really be organic?Traditionally supermarkets have not been great places to buy organic, locally grown produce.The big supermarket chains operate on a cost-economy basis, with far-reaching supply lines bringing the cheapest produce in from wherever in the world they can obtain it.
Even if a large out of town supermarket was built next to a small countryside farm producing wonderful produce, the likelihood is that the supermarket wouldn't sell its neighbours produce, despite the obvious benefits in terms of freshness and lack of travel time and costs.
However, there are signs that this trend is changing, and the supermarket bosses are realising that it is in their economic, if not community, interest to tap into this growing market, and start to source and sell organic food.
Green Shopping at Your Local Supermarket
A newly published report by the National Consumer Council (NCC) in October 2007, shows that supermarkets are responding to their customer requests, and are making efforts to both stock organic and locally-grown produce, and to become more sustainable and ethical in their buying and operating policies.
The report notes a "profound shift" in the behaviour of the retailers toward so-called 'green shopping'. Three of the major UK retail chains; Waitrose, Sainsbury's and Mark's and Spencer all attain a B rating in the report. Waitrose has made big efforts over the past year to woo the green consumer with its marketing campaign that pictures UK farmers, fishermen and food producers, and announces the range of UK-produced food available across its stores.
All of the supermarket chains in the UK now have aisles that stock exclusively organic produce, which is clearly labelled as such. Fruit and vegetables are also labelled organic, and given a special section of the fresh produce aisle. Food sourced locally to the supermarket branch is prominently displayed. Asda, the Co-op and Somerfield were praised within the report for increasing the amount of in-season, UK-grown vegetables, available within their stores.
However the NCC report does criticise the supermarkets for failing to cut down the levels of unnecessary packaging used in their operation, particularly the over-reliance upon plastic bags.
Consumer Pressure and Responsibility
Supermarket shopping is such an ingrained part of life in the 21st century, and yet most consumers don't recognise the power they have as spenders. Trends, such as the wish to buy organic, ideally locally-grown food, start small, but supermarkets and other retailers are constantly monitoring the sale of their stock and listening to consumer feedback, so the bosses are aware of what shoppers want – and they are ever wary that shoppers may switch allegiance.
Look at the options available in your local area, and find the range of type of produce you want to buy and eat. Remember that organic food will always be better for your body, but look for all the options available locally. Most consumers across the UK will now have a farmer's market in easy reach, and perhaps a farm shop, or a local food co-operative, as well as small corner shops, and big supermarkets. The range of food and other products available allow all consumers to be 'green' shoppers, choosing from a great selection of organic, locally grown, and ethically sourced goods.
You might also like...