Famous British Engineers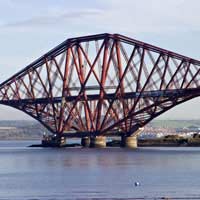 George Stephenson
Born on the 9th of June 1781 George Stephenson lived just outside Newcastle-Upon-Tyne he spent most of his formative years driving steam engines for the coalmines. It was during this time that Stephenson learned to read and write and spent much of his time driving these vehicles both in the North East and in Scotland.
Then in 1814 Stephenson built his first locomotive which he called 'Blucher'; it was used at a mine in Killingworth (in the district of Newcastle-Upon-Tyne) for hauling coal. The very next year he invented a safety lamp for use in the mines which became known as the 'Geordie'. September 1825 saw Stephenson complete his first locomotive for the Stockton and Darlington Railway – the Locomotion – it reached a top speed of 24 miles per hour. In 1829 the Liverpool and Manchester Railway held trials for a new locomotive for their service with a cash prize of £500 which Stephenson won with the 'Rocket' – his most famous locomotive.
Sir William Arrol (1839-1913)
Sir William Arrol was born in 1839 and became famous for his building of the Forth Rail Bridge between North and South Queensferry in Scotland. The bridge with its three cantilever towers which are each 104m (340 feet) high was the design of Sir John Fowler (1817-98) and Sir Benjamin Baker (1840 - 1907) and was constructed by Arrol at a cost of some £2½ million. Building began in 1883 and took seven years to complete; the Prince of Wales at the time (later to become King Edward VII) finished the construction by driving home an inscribed gold rivet on 4th of March 1890.
Thomas Andrews (1873-1912)
Born in Comber (pronounced cum-ber), County Down, Thomas Andrews was the son of a politician and a mother whose father owned Belfast's Harland and Wolff shipyard. In 1884 at the age of 11 Andrews entered the Belfast Academic Institute and left in 1889 to become an apprentice at Harland and Wolff where his parents paid the sum of £100 for his apprenticeship.
At the age of 28 Andrews was involved in the construction of the White Star Line's so-called Big Four: Celtic, Cedric, Baltic and Adriatic. By 1907 Andrews was managing director of Harland and Wolff which had nothing to do with his uncle's owning of the company. Andrews had been rewarded for his hard work and sheer determination. Construction on the ill-fated Titanic began on the 31st of March 1909. It was to be one of the world's most luxurious ocean liners and the largest. The Titanic was 269 metres long (882 feet) and weighed 46,328 tons and was launched on 31st May 1911.
On her maiden voyage the Titanic set sail from Southampton on 10th April 1912 and on the 14th of April 1912 struck an iceberg at 11:40pm. At 2:20am on the morning of the 15th April 1912 the Titanic perished with a loss of 1,500 lives – including that of Andrews himself who refused to leave the stricken vessel and was last seen staring at a painting in the first class smoking room.
Although the Titanic sank due to an event which no one – not even the designer – could have predicted, she remains today one of Britain's finest sea-fairing vessels.
You might also like...