Famous British Artists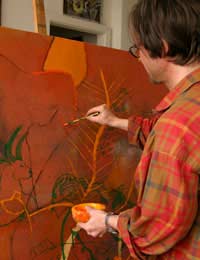 Below are the first 3 in our list of famous British artists:
John Constable (1776-1837)
John Constable differs from a great many artists in that he never really achieved success – certainly not on a financial level. Indeed such was his ability as a painter that he needed not to attend any formal art school and took over his father's corn business when he was old enough.
Constable satisfied himself with sketching the surrounding areas of his home and spent many hours each day sketching. His most famous paintings are Dedham Vale (1802) The Hay Wain (1821) and Salisbury Cathedral (1825). It wasn't until he was 52 that he was elected to be a member of the prestigious Royal Academy and by the time of his death in 1837 he had sold more of his paintings in France than in the United Kingdom. Now however, generations have come to appreciate his work and Britain holds him in high regard as one of its most prestigious and accomplished artists.
William Blake (1757-1827)
Revered for his ability to paint more than his poetry, Blake was a poet whose work came to symbolise mystery and symbolism. Born in London in 1757 Blake was the son of a hosier who grew up whilst being educated at home by his mother. Initially he worked as an engraver but then turned to painting and poetry. He often painted the images to go along with his poems and hand coloured them.
In 1826 Blake was commissioned to produce his own imagery for Dante's Inferno in watercolours however his death the following year cut the project short. On the evening of his death Blake asked his wife if he could paint her portrait and after having done so laid back in bed, sang hymns and slipped peacefully away. He is now revered as one of Britain's most symbolic, but sadly overlooked, artists.
Thomas Gainsborough (1727-1788)
Gainsborough was born in 1727 and was the son of a weaver. By the age of 13 he had impressed his father with his ability to sketch out drawings in pencil and his father allowed him to go to London to study art in 1740. As a result of poor sales in the 1740s Gainsborough returned to his home town of Sudbury, Suffolk in 1748 and spent the next year concentrating on portraits. One of his best known paintings is Mr and Mrs Andrews, which depicts a local couple sitting in a local meadow and painted in portrait.
He exhibited his portraits with the Royal Academy from 1769 until 1773 when poor relations with them prompted him to stop. In 1780 Gainsborough painted portraits of George III and his Queen and when he died in 1788 he was buried at St.Anne's Church, Kew, as was his wish – a wish he expressed to the king.
You might also like...