British Food Abroad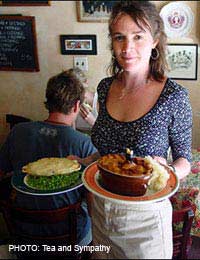 Exploring British Food Abroad
The range of British or British-style food available in New York is huge.A Brit abroad or indeed anyone in the so-called 'Big Apple' who fancies a feast of British epicurean proportion has much to choose from, and will find a British sort of welcome and atmosphere in all the establishments featured here.
The Chip Shop, Park Slope, Brooklyn
This is a real home away from home, when that craving for fish and chips, made in the real way, kicks in. Ranging from welsh rarebit, through ploughman's lunch, to a full English breakfast (with vegetarian alternative) as well as cod, haddock and plaice to go along with the beautifully cut and fried chips, this is a great menu, offering great dishes in a friendly environment. In the Scottish tradition, they will even fry chocolate for you!
If you do want chocolate, but in a simpler form, there is a great range shipped in from the UK available, along with cups of PG Tips, Yorkshire Gold tea, Ribena, Newcastle Brown Ale, and all the products you are really missing. Best of all, there is an afternoon family special every day, knocking 20% of the (not expensive) bill.
A Salt & Battery, Greenwich Avenue, Manhattan
This bustling chippie, right in midtown, was set up in 1990. It is run in partnership with the British tearoom 'Tea and sympathy' (see below), and as well as serving great authentic food and pioneering the tradition of fish and chips on American TV and across the land, is busy campaigning for their neighbourhood to be renamed 'A little piece of Britain'. Long may they succeed in that, as well as serving great British grub.Their wonderfully evocative motto, 'In cod we trust' is etched into the heart of every fish and chip devotee to wander the gastronomic paradise that is the island of Manhattan.
Tea and sympathy, Greenwich Ave, Manhattan
This is the quintessential corner of Britain in New York, perhaps in all of the US.Nicky Perry's restaurant offers up sumptuous portions of roast beef, Yorkshire pudding and bangers and mash, and if there's any other dish an expat might be missing, it could probably be cooked up too with a little bit of notice. This wonderful haven of Brit food, tea and more, even offers a typical British picnic kit, full of treats for a humid summer.
The Spotted Pig, Greenwich Street, Manhattan
This is New York's first gastro-pub, and is run by owner/chef, April Bloomfield, who cooked previously at the famous London riverside eatery, the River Café. The Spotted Pig prides itself on seasonal British (and Italian) food, with highlights including roll mops,Beef hash, rabbit, halibut, and a good haddock chowder. They also pride themselves on offering a range of hand-pulled cask ales, in the British style.
Gordon Ramsey's Maze, at the London, W 54th Street, Manhattan
British upper-chef, Gordon Ramsey, has hit New York with some style and panache, opening his chic restaurant Maze within a prestigious midtown hotel. Offering fare such as smoked rainbow trout, globe artichoke salad, 'hand-dived' sea scallops, Ramsey is bringing his British-inspired flair for both good food, design and ambience to a cosmopolitan setting. It is a pricey and classy joint for a British feast. Go there and celebrate being a British gourmet on the loose in New York!
You might also like...