The Rise Of British Food Writing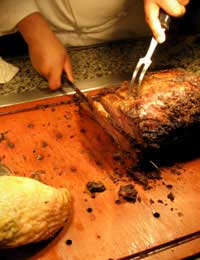 Ever since Mrs Beeton published her now legendary 'Book of household management' in 1861 (now referred to as 'Mrs Beeton's Cookbook') Britain and the British have led the world in both a love of cooking, and the need to write about cooking and food in all its many and varied forms.
The 20th century, with the advent of television, has seen British food writing expand into TV tie-in books. The rise of British celebrity chefs, all given carte blanche on TV to propound their love of food and how to cook it, produces an audience willing and ready to buy the accompanying recipe book. This has worked very well for Jamie Oliver, Nigella Lawson, Delia Smith, Ainsley Harriet, Keith Floyd, Fanny Craddock, and many others, who all developed flourishing careers through TV shows and publishing, as well as actually cooking.
In addition to recipe books, food writing has expanded into restaurant reviews, specialist food magazines, food and chef gossip, and arguments in book and article form for and against seasonal food, local food, and organic food.
A Selection of Food Writers and Food Writing Highlights
This is a selection of just some of the British food writers, or chefs who write about food, and some of the food writing initiatives that exist in the media today.
Delia Smith: The Complete Cookery Course
One of Britain's favourite TV chefs and food writers, Delia Smith launched her 'Complete Cookery Course' in 1978, in conjunction with the BBC television series of the same name. The book, also published by the BBC, has been reprinted every year since then, often in several reprints a year. Known for her enthusiasm and range, Delia is the recipe writer to go to, to learn how to boil an egg, to check the creaminess of a classic Italian risotto, or to find out how to make the classic British Sunday roast.
Perfect for both vegetarians and carnivores, Delia has rightly carved a place out for herself in the hearts of the British cooking (and viewing and reading) public.
Nigella rules: Feast – Food that Celebrates Life
A wonderfully popular cook, with several series and books to her credit, Nigella Lawson has become the doyenne of modern glamorous and unflappable chef presenters.
Her book, 'Feast – food that celebrates life' (2004), pioneered beautiful food photography as well as a great compilation of meals for all festive occasions, from the Jewish Rosh Ha'shonah, through Christmas to an American Thanksgiving, by way of wedding and funeral feasts too.
The Cranks Recipe Book
Cranks was a small chain of vegetarian wholefood restaurants that were established in Britain in the early 1980's, and were extremely popular. Sadly, only 1 remains nowadays, near the town of Totnes in Devon. However, their wonderful recipe book, simply titled 'The Cranks Recipe Book' (1982), written by Cranks founders Kay and David Canter with Daphne Swann, remains a well-loved and much used classic in many homes, whether vegetarian or not. Highly recommended for its simple style, this book is perfect for delicious and nutritious soups, wholesome cakes, and hearty breads.
Other Recommended Highlights
British Film director Michael Winner writes a wonderful weekly column in the Sunday Times newspaper entitled 'Winner's Dinners' in which he visits an allegedly classy restaurant, somewhere in the world, and discusses its merits. If he likes it, or knows the chef, his praise is gushing. If they do not give him the attention he feels he deserves, he rips the place apart in print. Not to be taken too seriously, but wonderful and stylish reviewing (with a clear bias) that is great reading.
Nigel Slater is a great food writer and advocate for great cooking. He is also the editor of the Sunday newspaper The Observer monthly food magazine, which is a great collection of food news, new restaurant reviews, recipes, offers and food supplier advertisements. As well as a wonderful collection of over 300 recipes in his recent book, 'The Kitchen Diaries' (2005), his memoir of childhood, 'Toast – the story of a boy's hunger' tells his early fascination with food, and early days training in various hotel kitchens. Well worth reading.
You might also like...