Famous Buy British Supporters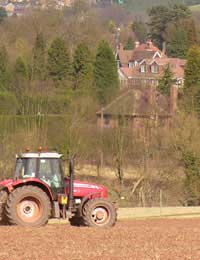 The campaign to support buying British produce and in turn to support British produce suppliers, is a relatively recent phenomenon. It has partly grown out of political reasons, including supporting the national economy at a time when the UK faces economic competition from growing economics in the European Union and elsewhere, particularly China.
Other reasons include a response to disasters that have befallen the countryside and the farming community such as the foot and mouth crisis and flooding. Recent concerns about bird flu being brought into the country, through the importing of birds for food production at a processing plant in East Anglia, have contributed to fears about the importing of food.
This leads into the growing debate of the environmental and social effects of food miles; that is importing food hundreds and thousands of miles from its place of origin, simply because it is possible to do so - the supply and the demand exists.
For all these reasons and more, many national figures in the UK have joined the call within the country to buy food grown and produced within itself.
Tony Blair (now ex Prime Minister)
It is still early days to see how new Prime Minister Gordon Brown responds to the call to support British food, but ex PM Tony Blair often used his voice and authority to support British farmers and food. His Government was responsible for the response to the foot and mouth crisis, and the fears over avian flu recently, so in addition to the natural expectation that a standing Prime Minister would do all they could to support the national food industry, a feeling developed that the Labour Government should do all it could (and still can) to support British food producers.
HRH Prince Charles
In addition to the expectation that the British monarchy should do all it can to support the British food industry (and all its Industries), Prince Charles has taken this commitment one step further. A passionate environmental supporter, he has successfully used his tremendous resources to create a mini British food industry himself: Duchy Originals.
This high-quality brand, initiated by the Prince himself, and using the several farms he owns, uses organic farming methods to manufacture a range of foods, from biscuits and bread, to meat, and more. It is a high-end brand, more expensive than most foods in a similar range, but backed up by its commitment to the farming methods employed, and the green movement in general. It is clearly expanding its range, and available in its distinctive packaging with his personal mark, the fleur de leys, in most retail outlets these days, from supermarkets to smaller grocery shops.
Terence Stamp
Actor Terence Stamp has set up a food brand, named the Stamp Collection, that is partly in response to his own experience of gluten allergies and food intolerance. Similar to Duchy Originals, it is also a high-end range, has fewer products on offer, and doesn't necessarily commit to using British-only ingredients in its production. However the brands publicity supports British produce where possible and heraldsthe quality food industry here.
Supporting British Produce Ourselves
Having famous supporters is all well and good, but the British public must practice their support for British food themselves. As well as buying British-produced goods, we can all establish greater relationships with the food itself - by growing some ourselves, or by visiting farms and getting to understand how our food is grown and raised, and seeing how farmers, on a small or a medium scale, deal with the realities of their working lives within food production.
This experience really enhances an individual's relationship with the food they eat,and with the local area in which it is produced, as well as the country it is produced within.
You might also like...