British Pasties And Pies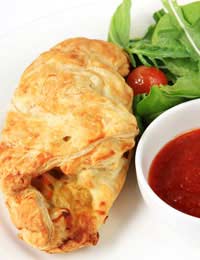 The Renaissance of British Pies and Pasties
Pies and pasties are both staple meals and gourmet cuisine in Britain and both are undergoing a real renaissance in British food culture currently. New pie makers are opening across the Country, with traditional and experimental and funky pie fillings, and both they and the traditional Cornish pasty makers are selling their fantastic foods both on the high street, in transport terminals, markets and summer music festivals, as well as through the traditional outlets.
Dissecting the British Pie: Pie Today and Pie Tomorrow
A traditional British pie,served piping hot, made with or without meat, wrapped in good-quality pastry and served with mashed potatoes and a gravy, is a wonderful meal that evokes Britain in food. Steak and kidney is the traditional meat filling, with the pastry made from several layers, hand-rolled and buttery to the taste. They have been eaten everywhere in Britain, by the working man and royalty, for as long as any food writer and food historian can remember, and served everywhere from pubs to palaces. With the recent efforts to upgrade the humble pie, Brits and tourists will be eating great British pies, full of great British ingredients, for a long time to come.
Case Study: Pieminister
Pieminister is a Bristol-based cathedral of great pies. The business started in 1992, in a beautiful premises in the Stokes Croft area of Bristol, and now they sell a selection of 10 handcrafted wonderful pies ( the matador, filled with British beef steak, chorizo and butter beans, and the heidi pie, a vegetarian option, stuffed full of goats cheese, spinach and roast garlic; are 2 great recommendations well worth seeking out), with new flavours appearing regularly.
Pieminister used to be a Bristol secret, then the locals revealed them to the world, and now the pies and sides (which include mash made from Desiree potatoes; garden peas mushed with mint and white wine, as well as a range of delicious sweet treats) are available through 3 shops outside of Bristol, specialist retailers, at Borough market in London,and on the Pieminister mobile van. which travels to events and festivals throughout the Country, such as the Glastonbury festival, and Kempton and Warwick races. These pies are a must. They are worth traveling the country to find.
Case Study: Square Pie
Launched in 2001 with their motto "we don't cut corners" and a premises in Spitalfields market, this London pie maker is booming, with 21 types (including 1 sweet pie) of square pies sold in 2 sizes (classic is 290g, and midi is 180g). They have taken the capital city by storm, and now have outlets in Selfridge's classy food court, Canary Wharf, Heathrow terminal 1 (for when you arrive back in Britain, desperate for pie) and for the departing British traveler – available on board Virgin airlines (but only in Upper Class, unfortunately!). Now also selling their pies frozen through a national supermarket chain. A crucial pie experience. Savour it.
Cornish Pasties: The Authentic Cornish Deal
Like pies, Cornish pasties have their followers too. Les Merton is the author of 'The Official Encyclopedia of Cornish Pasties', who claims that there is evidence in a Cornish rock painting that the pasty existed in the area at least 8,000 years ago.
In more recent times, the pasty was a complete meal for miners in Cornwall: one end contained meat and the other contained a fruit made into jam. In some shops in Cornwall these double ended pasty's are still available. The Cornish Pasty Association is made up of 40 pasty makers from the area, and they testify to the popularity of the pie, sold the world over, but grounded in its Cornish roots.
Case Study: The West Cornwall Pasty Co.
The West Cornwall Pasty Co was created in 1998, and today sells 16 types of pasty (with 1 sweet). They have 47 shops across Britain, and sell 6 million pasties a year. Their groundedness in Cornwall means they make an explicit pledge to support Cornish initiatives, and the charity they support is the RNLI (Royal National Lifeboat Institution), so each customers purchase of tasty pasties, be they steak and stilton, cheese and bacon or pork and apple, goes to keep British lifeboats in the seas, saving fishermen's lives around British shores.
Experience Pies and Pasties: The Great British Taste
Seek out all of these pies and pasties – either on the high street, at a festival or racecourse, or from one of the specialist shops. Enjoy a pie and mash with gravy, or a real Cornish pasty. Savour the great taste of a true British culinary experience.
You might also like...