British Rock Bands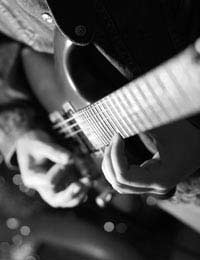 In the history of music there are many rock bands from all around the world who have earned their place in the pages of the musical text books; quite a number of those rock bands have their roots in Britain. Here we look at just a few of them.
Genesis
Originally formed by a group of schoolboys at Charterhouse School, Genesis have become one of Britain's most enduring rock bands with an impressive list of hit albums and singles to their name.
Surprisingly however Genesis has never had a number one single in the United Kingdom although in America they have claimed the prized top spot on the Billboard Charts. With a career spanning four decades Genesis has gone through many changes including the loss of their original lead singer Peter Gabriel (who himself has gone on to have a commercial and critically successful career). Gabriel was replaced as lead singer by Phil Collins who joined the band as their drummer and also sang backing vocals. Collins, himself not educated at Charterhouse and answering an ad in one of Britain's leading music magazines, took on the roll as drummer and after Gabriel left decided to try his hand at singing lead vocals after a succession of other vocalists auditioned. And so a new chapter in the history of Genesis began.
With a string of number one albums and sell-out tours to their name Genesis have become synonymous with big stadium numbers as well as ballads that tug at the heart strings. In 1991 Genesis recorded their last studio album with Phil Collins as singer and after a hiatus of five years Collins finally announced his desire to leave the band.
However in 2006 it was announced that Phil Collins would return to Genesis for a reunion tour and the band's three man line up of Banks, Collins and Rutherford embarked on a sell-out world tour with a taste of what young and older fans alike had been missing.
The Rolling Stones
The Rolling Stones are again another of Britain's fine rock band exports. Comprising Mike Jagger, Keith Richards, Charlie Watts and Ronnie Wood, The Rolling Stones has been making music since 1962. The aforementioned line-up has been the band's staple for the last fifteen years. Credited as the band with the highest grossing tour in the world the Stones have had eight number one singles and numerous number one albums. At the present time there is no new material on the horizon but for The Rolling Stones and their fans that does not mean the end of a band who have successfully put British rock on the world music scene.
The Who
No list or encyclopaedia of British Rock would be complete without mentioning The Who. Formed in 1964 The Who has been responsible for some of the most influential and successful albums in rock history including the rock opera Tommy. Fronted by Roger Daltrey, The Who has clocked up an impressive 12 albums and have been playing to capacity crowds in venues all over the globe.
Pink Floyd
Again another one of Britain's finest rock bands who have captured the imaginations of generations of music listeners and concert goers since their inception in 1964. With estimated album sales around 74.5 million Pink Floyd brought the world 'The Dark Side of The Moon' (1973), 'Wish You Were Here' (1975) and 'The Wall' (1979). Although in a state of limbo since 1996 the band reformed for a one-off performance at the Live 8 concert in London in July of 2005 sparking rumours of a return to recording although at the time of writing there seems to be no sign of this actually happening.
Front man Dave Gilmour (guitar and vocals) has enjoyed success in his own right as a solo artist and continues to produce albums on a regular basis.
You might also like...