Current British Music Scene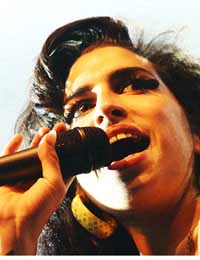 What's Happening Now: the Current British Music Scene
Given the explosion of pop music in Britain since the 1960s, the current scene since 2000 is thriving. With more bands and singer-songwriters than ever before, with many new genres, fusing several old styles – like folk/punk, or electro/folk; the current scene is bigger and broader, and more confusing to navigate through.
Live Earth, a showcase of international bands, building on the success of Live Aid in 1984, but this time to highlight the climate change crisis, has just occurred (summer 2007),with one of the larger concerts held in London, featuring both newer bands, and musical giants such as Genesis.
The British Music Scene is one Giant Business
Record labels like Sony and the media at large have much more power in music than ever before – who gets more airtime, who gets the bigger gigs at the bigger venues; this is all controlled by labels and the media, less by the record-buying public and is the subject of intense marketing scrutiny. Politics and marketing strategies are much more a part of the music business now than they were in the 1960s.
New Bands and Singers of the Current Scene
A partial list of bands and singers that have emerged since 2000, includes
Razorlight
Coldplay
The Streets,
James Morrison
James Blunt with his ethereal voice, military background and 'that' song; 'You're beautiful', which has been overplayed and hyped intensely
The Arctic Monkeys, rumoured to have been 'discovered' on an Internet chatroom
The Fratellis, winners of the 2007 BRIT Award for new British breakthrough act
Muse
Amy Winehouse; winner of the 2007 British female solo singer award
The diminutive Scottish lass with a huge voice, KT Tunstall who won that same award for solo female artist in 2006
Dizzee Rascal
The up and coming young Scottish band, The View, referred to by several music journalists as 'the new Oasis'.
Others include Dido, The Kaiser Chiefs, The Darkness, Will Young, Blue, Franz Ferdinand, Joss Stone and Keane, to name just a few of the new and emerging artists of this 7 year-old generation.
Could it be Magic?
An act enjoying a renaissance in the current British music scene is Take That. Hugely popular in the 90s, Take That split up in 1996 breaking the hearts of many young fans across the world. However, after the success of a TV documentary, the boys decided it was time for another tour, which consequently sold out in 6 hours even after adding many extra dates.
The boys then went on to release another album, 'Beautiful World', in November 2006, which has sold more than 2 million copies to date. The success of this album will see the boys touring again later this year, tickets for which sold out 30 minutes after going on sale. There are even rumours that former band member Robbie Williams, who left the band before the split, may join them on this tour, a site that many fans would love to see.
New Styles and Fusing Genres
This decade has seen the growth and development of many new styles of pop, and due to the growth in communication and easy physical traffic between the UK and the US in particular, artists and styles of music cross-fertilise much faster. Electro-pop is one such example of this. This is pop made from a heavy reliance upon synthesisers. This style has been around since the mid-80s, but in the current decade it is being refined and re-invented.
Also, there are more solo singer-songwriters performing, and the British music market seems to have expanded to accommodate this. The popularity and power of an individual performer seems to be reverting to the success of the individual as it was in the 1960s.
The Pop Idol Effect
A new phenomenon, which does mark out this decade and will be seen as such by future music and cultural historians, is the rise and massive success of the TV series, Pop Idol. It's premise, which gives an individual chance to audition in front of a jury of so-called 'experts' and a huge TV audience, is simple and has fired the imagination of thousands of talented (and not so talented) performers. Some have been launched on glamorous careers as a result of this trial by TV; many have returned home in tears, and most are just glad they got up and had a go.
In many ways this is a cynical marketing exploitation of individuals and audiences. It is also a new way of exposing talent, and developing talent. Many critics are divided on this. However, this show does represent the decade in terms of the British love of performance and popular music, as well as other styles of music and all types of creativity, and that is to be applauded.
You might also like...