Why Does Food Travel?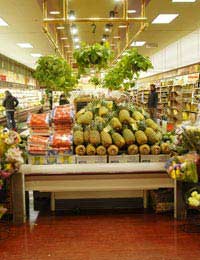 If you take a look at your local supermarket or corner store you will see food of all types that has travelled many miles - known as food miles - to the store.
Typical examples are fruit and vegetables - like bananas and pineapples that cannot be grown in the United Kingdom, due to a wetter and cold climate, so these are imported from abroad where they are grown and cultivated on a massive scale in order to export to countries such as this.
Even though the UK has a thriving agricultural and farming industry, the ever-expanding consumer marketplace has demanded fruits and vegetables and different types of produce all year round, so food suppliers search further and further around the globe to source food to supply this demand.
Food Politics: Supermarkets, Governments And Local Production
Unfortunately, politics has entered the marketplace of food production, supply and sourcing, as it has every other type of commerce.
The major supermarket chains are all in competition with each other and one of the main areas where the battle really hots up is in sourcing and distributing food. If one of the main supermarkets can source a consistent supply of good quality lamb for instance, in Australia, then it will quickly set up a deal with the local production middleman on the ground in that country, get contracts and supply in place, and then ship it to its supermarkets here in the UK extremely quickly.
This will be followed up by an aggressive marketing campaign, both in-store and in the National media, and consumers will enjoy a glut of good quality, good-priced meat - and either not know or not care that it has come so far and comes to the plate with food miles attached.
Governments do deals with both the supermarkets and with the suppliers, in their own and overseas Countries, to keep trade flowing, and to keep trade quotas.
Thus financial and trade incentives are in place to support bringing certain food items, including meat, to the UK, which has plenty of its own produced meat, all the way from such far-off places as Australia, or Indonesia, or South America.
Supporting Local Producers And Advocating Consumer Power
The losers in this system are always the local suppliers, who find they cannot compete with cheaper produce sold at the local supermarket. Many small to medium scale farmers across the UK have gone out of business over the past 10 years due to increased imports by supermarket chains.
Farmers are forced to competitively price their produce, which on one level is a good thing, but they realise that however much they bring their price down, per pig or per lamb, or per ton of potatoes, the supermarkets will always be able to undercut that by going further and further afield to source even cheaper supplies.
Ultimately, as well as the farmer losing out, so does the consumer. Even though we pay less for our goods, we have less choice, and in the new environmental reality of the marketplace, our food increasingly comes with 'dirty' food miles attached, with all the negative connotations of carbon output this entails.
As consumers, we do have the power to control the marketplace for the food we eat. We can take an interest in where the food has come from - we have the power to visit local farms and see how our food is grown or reared if we wish to.
Consumers in the UK can support local farmers, growers and food producers, and ensure that the food we eat doesn't have to travel miles from the field to our plate.
You might also like...