What You Can Do To Limit Food Miles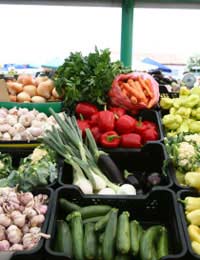 Food miles are one of the modern world's complicated additions to food production.They add often-unnecessary transportation with the stresses of environmental pollution through carbon production, and financial costs – both to the producer and to the consumer, to food.
Adding food miles to food creates long intricate webs of reliance between the producer, the shipper/supplier, and the consumer. Local food chains get messed up – a consumer in the far-east gets only the poor quality bananas, as the best quality are shipped off to the US or the UK, and in the well-off Western World, the local farmer doesn't get to grow the food he wants, perhaps on a small-scale, sustainable and experimental level, because the local supermarkets undercut his prices with cheaper food from the developing world.
This reliance upon food miles is a difficult chain to break. We are all now addicted to chocolate and coffee ( which are never going to be grown in the UK) that is imported, or bananas, or a wide range of fruits and vegetables, or even New Zealand lamb. What about wine, from France, Germany, California, or even Australia; and the most-commonly offered mineral water available in our favourite restaurants, San Pellegrino, from Italy?
Limiting Our Reliance Upon Imports
Becoming aware of our reliance is the first means of overcoming it. Consumers need to be aware of the distance that our produce travels, and start to think about the choices we have. Start by asking these 2 questions when next you go shopping:'Is there a local alternative available to this product?' and 'Can I influence my local retailer to source and start to supply locally-made produce'?
The answer to both these questions is yes. There often is a local alternative – there will be a locally produced (or at least British) spring or mineral water (try Buxton or Highland Spring as just 2 examples), or a locally reared meat supplier, or honey producer, or vegetable farmer.
Looking for Alternatives
Places you can look for local or British-made produce and goods are:
a local farmer's market
health food shops
advertised in your local paper
the Internet
notice boards and community meeting places
car boot sales
Suppliers of food and goods want to get their items to the consumer, so bear in mind that they are looking for you as much as you are looking for them!
A Happier Connection Between Producer and Consumer
It is a friendlier, more trusting system when you buy directly from the grower or producer, and this also, importantly, gives you the consumer that all-important tool – traceability of the item, and gives the producer accountability. These key areas of responsibility get lost when food is imported and exported.
Bear in mind that you won't be able to change your shopping or eating habits overnight.Becoming more aware of the situation, and the economic, environmental and social impacts of our choices made when putting each item in our shopping basket, will make our choices more ethical and environmentally friendly.
We can all limit food miles. Lets make that small, local step today!
You might also like...