How Far Has Your Food Travelled?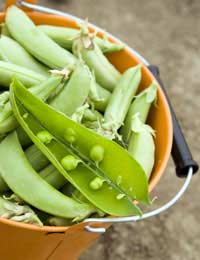 Why Does Food Travel?
In today's global economy, food can be grown anywhere in the world and if there is demand for it elsewhere, it will be purchased and supplied by an intermediary, be it a middleman supply company, or a supermarket chain. This is simply the law of supply and demand. Food and other items travel because they can: we as a society have created an international supply chain, which can virtually supply anything a consumer wants, at a price, within a short space of time.
Seasonality : Messing with the Seasons
This 'get anything, anytime' approach means that if we want a fruit or vegetable that is out of season in the UK, for instance a plum in the middle of winter, the likelihood is it can be purchased at a large supermarket. This plum would have been grown on the opposite side of the world, where either it is the plum season, or grown under forced and artificial conditions.
Because consumers can now get anything they want at anytime, which is only a late 20th century phenomenon, made possible by air and shipping travel and the creation of a global economy, consumers are also losing sense of seasonality, and the local growing seasons in the UK.Once the conditions exist, consumers are then surprised and annoyed that they cannot buy British produce in the height of a UK winter, while supermarket shelves are piled high with produce from New Zealand, Indonesia, or China.
The responsibility for this doesn't really lie with the food producers in those countries (because, after all, the UK also exports produce too), but with consumers, whose wealth and whim creates the demand in the first place.
Check the Label – Accountability for our Food
Along with the move in Britain for organic food, there is a growing sense of consumers taking responsibility for the food they eat, and trying to cut down on the amount of food miles they accrue by buying food that is imported. This movement supports the purchase of locally-grown and reared and seasonal food. To start being accountable to ourselves and to the environment, we can try to find out where the food we eat has been imported from, and how far it has travelled from its place of origin to ending up on our plate.
Finding Out how far our Food has Travelled
This is not an easy thing to find out, as suppliers and sellers are not really under any obligation to divulge the origin of the food they sell. There are some laws in existence that result in most supermarkets printing a cursory 'Country of Origin' label on food, but a single word 'China' or 'Indonesia' is often all that can be found. Some supermarkets are improving, with information in store (and on company websites) showing maps of local areas worldwide where certain types of produce comes from, but largely it is left up to a consumer to persevere and figure the food miles out for themselves.
It is easier if a consumer knows that they have purchased UK produce, because the seller or supermarket are often prouder of this fact, and might advertise the name of the farm where the food was grown. If a consumer buys direct from a small local greengrocer, they will probably be happy to tell you the origin of the all they foodstuffs they sell.
You might also like...